J. Douglas McCalla
Of Counsel
A former partner of 20 years, J. Douglas McCalla has acted as of counsel for The Spence Law Firm since 2009. Born and raised in Gillette, Wyoming, Doug is a third generation Wyoming native and an integral part of The Spence Law Firm team.
From 1969 to 1973, Doug served in the U.S. Coast Guard before graduating from the University of Wyoming Law School in 1976. After law school, Doug practiced law in Cheyenne, Wyoming before accepting a position as Deputy Prosecuting Attorney for Uinta County in 1980, where he served for two years. In 1982, he joined The Spence Law Firm where he was a partner for two decades.
Over the course of his extensive legal career, Doug has fought for the rights of ordinary people against large corporations and the government. He has obtained record settlements for individuals wrongfully accused of murder, many of whom spent years of their lives on death row for crimes they didn't commit. Recently, Doug represented Terry Harrington during oral arguments in the United States Supreme Court. Terry was framed for murder and wrongfully imprisoned for twenty six years.
Doug is AV® Rated by Martindale-Hubbell® and is admitted as lead counsel in at least twenty five state courts. He has successfully represented clients in an array of personal injury matters, including product liability, workplace accidents, catastrophic injury, toxic torts, wrongful death, and civil rights issues.
Wyoming

Colorado

Utah

Ninth Circuit Court of Appeals

Tenth Circuit Court of Appeals

United States Supreme Court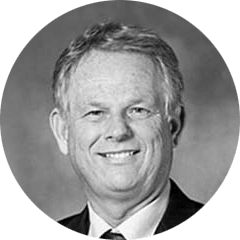 "I take pride in my work as a lawyer and I cannot imagine doing anything else. When I go to bed at night, I sleep soundly knowing that my work has made a positive difference in the lives of so many good people."
Lawyers and Advocates for Wyoming, Founding Member
Gerry Spence's Trial Lawyers College, Faculty
Meet with us.
If you are struggling with a serious injury, or are fighting against seemingly impossible odds against big corporations, insurance companies or the government, call us to speak with our team of trial lawyers who will fight for you. We take no fee unless we earn it by winning your case.